Update on Steering Committee & the Future of MEPPI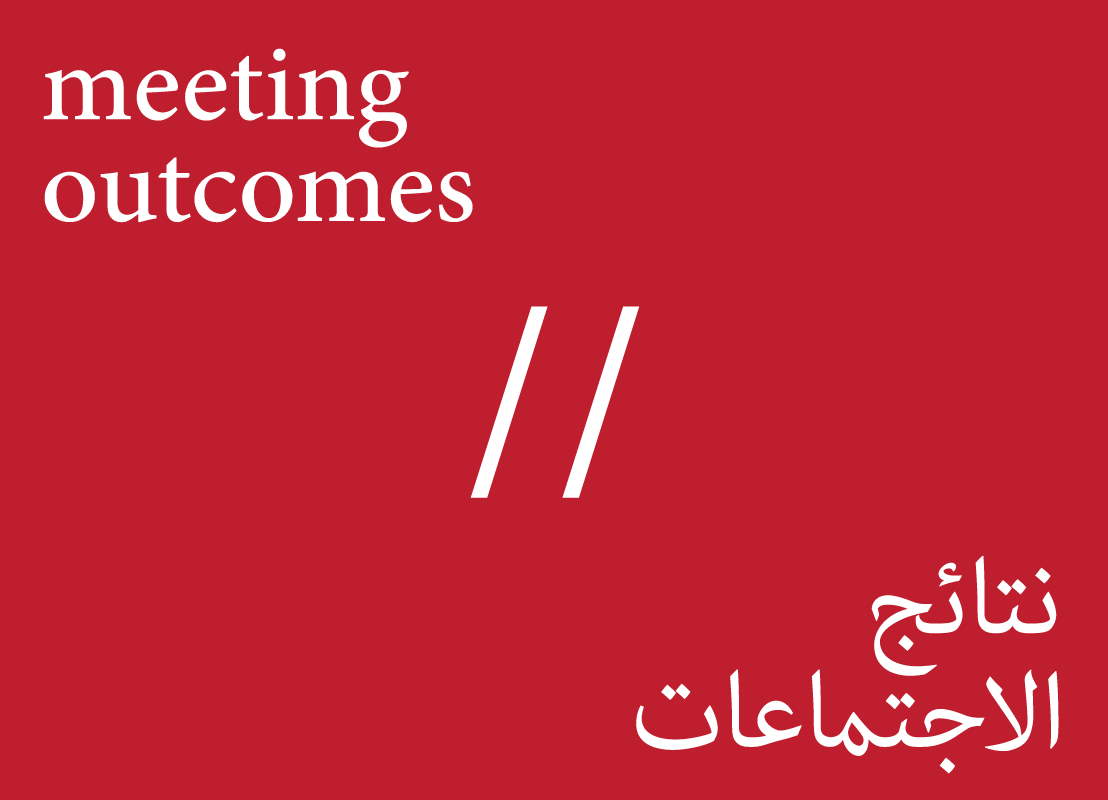 Dear Colleagues,
It has been some time (too long!) since we've been in contact but Nora, Debbie, Marc and I thought you'd like to hear some good news about the future of MEPPI.
In late February, by coincidence, several of us happened to be in New York City at the same time. ​ This gave us the perfect opportunity to catch up on recent MEPPI accomplishments as well as future plans. ​ And so Marc, along with his colleague and AIF board member Yasmine Eid-Sabbagh, Nora and I met for a day at the Metropolitan Museum. ​ Kaoukab was able to join us for lunch and it was lovely to see her again. ​ Unfortunately, Debbie was unable to attend the meeting due to another commitment but we have brought her up to date on our discussions. ​ ​ 
Here is a summary of our discussions that we'd like to share with you:
Arab Image Foundation Update
As you may already know, the AIF has enjoyed a period of intense activity over the past 18 months, which has included hosting a digitization workshop and meetings of the alumni group steering committee, and updating the MEPPI website. ​ During this time, Rawad Bou Malhab has joined the staff of the AIF as the project manager for MEPPI. ​ In the short amount of time that he has been in this role, Rawad has continued with the website update, drafted a communication strategy, dealt with numerous administrative matters—all while bringing a new energy to MEPPI. ​ We are delighted to welcome him to the team.
Yasmine and Marc have expressed how much they would like to expand on AIF's educational work. ​ In addition to short workshops, future educational efforts might include courses offered through local universities as well as residencies that could provide opportunities to gain additional experience. ​ ​ These are really exciting ideas especially since the AIF's commitment to education clearly aligns with the expressed interests of MEPPI alumni for additional training and information. ​ For example, some alumni have reported that, although they have learned a great deal through the MEPPI workshops, they are experiencing problems in implementing what they've learned within their organizations. ​ For that reason, a number of them have indicated that they would welcome training in the skills required for effective advocacy and for influencing change.
Evaluating MEPPI's Impact
To get a much better understanding of how MEPPI can address such concerns in the future, we discussed carrying out a formal evaluation of the impact that MEPPI has had on the working practices of individuals and institutions associated with the initiative. ​ In addition to giving us valuable information on how MEPPI has changed preservation practice, the evaluation process will identify the needs alumni may still have for additional learning and where we might better strengthen the network. ​ In doing so, the formal evaluation will be a valuable tool for strategic planning and for fund-raising.
All of the project partners will assist in the evaluation which will be carried out by the Arab Image Foundation under a contract with the GCI. ​ Over the next several months we will develop a series of questions we will pose to MEPPI participants through both written questionnaires and phone interviews. ​ We expect the evaluation will take 6 months once it is underway, including data analysis and the production of a report. ​ The GCI has access to an evaluation consultant who will be available to assist with aspects of the evaluation if required. ​ We will keep you up to date on this process as it moves forward.
The Future of MEPPI
The future of the MEPPI network looks promising, thanks to both the dedication of the current Steering Committee and the MEPPI alumni themselves.
When the Steering Committee was set up in May 2017, it was with the idea that it might guide the MEPPI network for an initial six-eight months, after which a new group of people might be elected to take over committee duties. ​ In fact, we had under-estimated the amount of time it would require for members of the initial committee to take on this responsibility. ​ The fact that you remain engaged in guiding MEPPI over this long period is truly a testament to the remarkable dedication of all of you! ​ ​ 
We realize that it is not easy to work at a distance and in fact members of the steering committee have each taken on work that adds considerably to your professional work load. ​ However, you have successfully helped to define future directions for the MEPPI network and have pursued important ideas like the newsletter and booklets on key preservation topics. ​ ​ We hope we can continue to rely on your ideas and energy but, at this point, we should also consider how to pursue these activities in a way that is less burdensome to you. ​ ​ 
Many of the activities MEPPI will pursue over the next several years will require both fundraising and new partnerships. ​ This in itself involves a major commitment of time and effort and it is clearly unfair to expect that work be carried out by a steering committee. ​ Therefore we propose that this work be lead by the Arab Image Foundation which, as a registered non-profit organization, is ideally suited to both manage MEPPI and to expand it through the fundraising and partnerships that will be vital to its future. ​ 
The steering committee has accomplished its principal mandate to identify future directions for MEPPI. ​ Nonetheless we hope that members of the committee will continue to contribute advice and guidance as the work moves forward. ​ Serving now as an advisory group, it will provide important information and guidance to the AIF and its partners as they realize MEPPI's potential. ​ As the AIF moves forward with fundraising and implementing MEPPI's activities, they will need to rely on the collegiality and mutual support that have always been critical to the success of this initiative. 
With our very best wishes,
Kathy, Debbie, Marc, Nora and Yasmine