Travel Grants & Open Call
19th ICOM-CC Triennial Conference & Cultural Emergency Response Program
Dear MEPPI Alumni,
Happy near year to each of you. You are missed more than you can ever know! Debra and Nora shared with us the opportunities below. ​ We urge many of you to apply. We all stand ready to offer advice and guidance should you wish to submit a proposal.
- from all of us at MEPPI
---
Open Call
​Cultural Emergency Response Program
​17.02.2020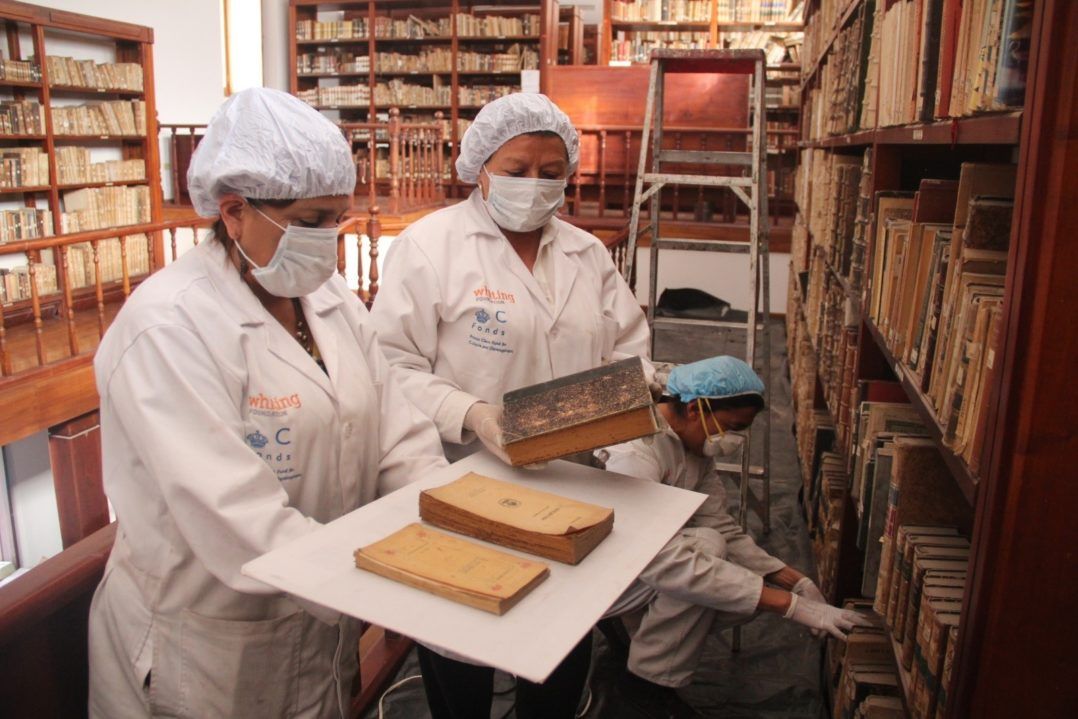 The previous calls for proposals in 2017 and 2018 drew a resounding response. Now the Prince Claus Fund, through its Cultural Emergency Response (CER) programme and the Whiting Foundation announce a third round of the Open Call for First Aid to Documentary Heritage under Threat. We invite proposals for projects in Africa, Asia, Latin America, and the Caribbean to safeguard documentary heritage that is acutely threatened by recent conflict or other disaster, whether natural or man-made.
The final deadline for applications is 31 January 2020 at 17:00 Amsterdam time (CET). Applications received after the deadline cannot be considered. Important: Deadline extension date to 17 February 2020.
What's at stake
Manuscripts, rare books, archives, tablets, inscriptions, and other kinds of written records are sometimes the only form in which the past survives. Whether they are in monasteries, private libraries or forgotten tombs, they are objects of historical importance and deep local meaning. They are also especially fragile, susceptible to fire, insects, water and humidity – and are sometimes singled out for deliberate destruction by those afraid of their symbolic power. When there is an earthquake, a flood, or an armed attack, the heritage may be lost forever. 
For details on Eligibility, Selection Criteria, and how to apply, please click here. For other inquiries, please contact [email protected].
To apply, please download and complete the Statement of Need form found here. The form can be completed in English, French, or Spanish. Please send the form with supporting materials to [email protected].
---
Travel Grants
​ICOM-CC / The Getty Foundation International Program ​
​23.02.2020

Beijing // With support from the Getty Foundation, the International Council of Museums Committee for Conservation (ICOM-CC) will offer a limited number of travel grants for museum and/or conservation professionals from emerging economies and developing countries (ICOM country categories 3 and 4 (ICOM Country Classifications for conference 2017) in Africa, Asia and the Pacific, the Middle East, Eastern Europe, and Latin America to attend the 19th Triennial Conference of ICOM-CC.
Who can apply
Qualified museum and/or conservation professionals with a minimum of four years work experience who are currently employed in a museum or related institution may apply. Grants are not limited to ICOM members, however, special consideration will be given to individual members of ICOM and ICOM-CC, or Friends of ICOM-CC, or those working for an institution that is an institutional member of ICOM.
 How to apply
Applicants must complete the grant application form available at the ICOM-CC website (www.icom-cc.org) and on request from the ICOM-CC Secretariat ([email protected]).
The firm deadline for application is Sunday 23 February 2020
Submission by e-mail only to the ICOM-CC Secretariat. Any questions about the travel grant should be directed to: [email protected] All applicants (successful and not) will be contacted in April 2020. Major support for the ICOM-CC/Getty International Program has been provided by The Getty Foundation.
Click here for more details.
Application Form 19th Triennial Conference ICOM-CC Getty Foundation
DOCX - 141 Kb
Download
ICOM Country Categories
PDF - 135 Kb
Download