Steering Committee
Meetings Outcomes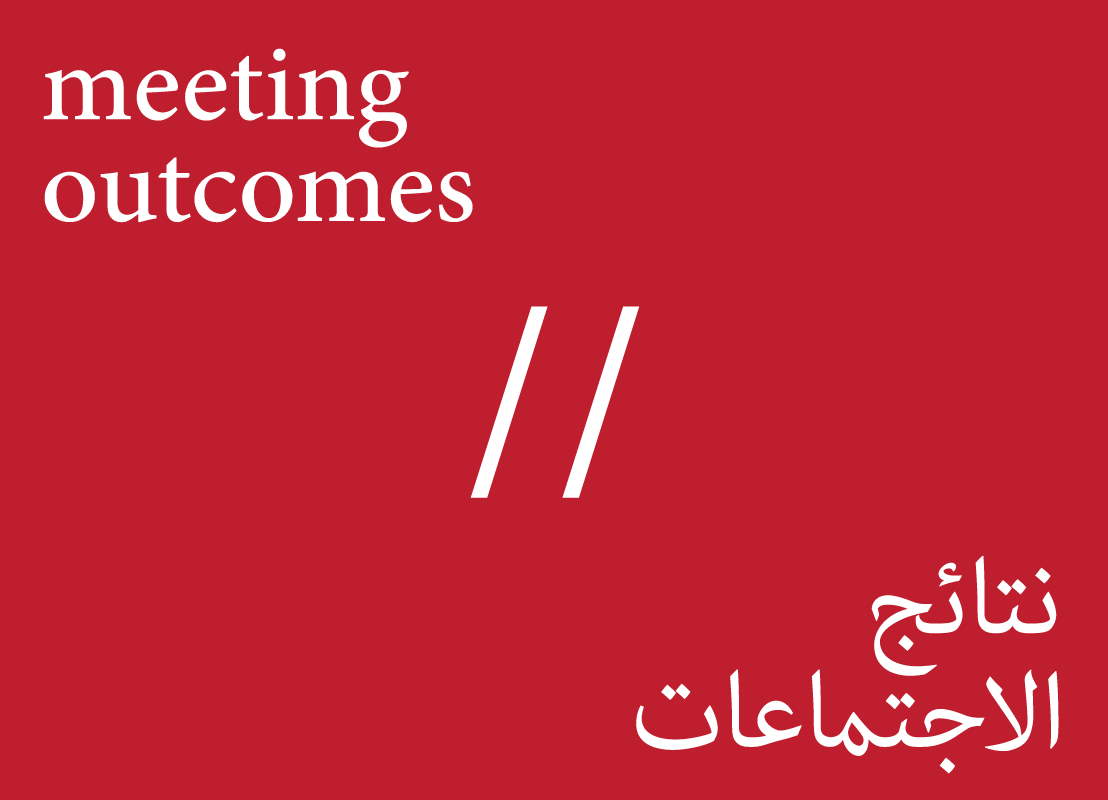 Dear MEPPI Alumni,
Greetings to all. It has been almost 10 months since our last symposium in Beirut, in May 2017: it was an amazing opportunity to reconnect, to see you all, and to convene around and to share, once again, our pledge to the core values of MEPPI. It was truly heart-warming to see how much our community has grown, and to realize, first-hand, how resilient and active it is. This is due to the hard work each single one of you does everyday, during our MEPPI meetings, but also at work, in your everyday life, and through the resourcefulness, and love of photography and of our communal visual cultures that you all embody, uphold, demonstrate and advance, in all your endeavors.
As you all know, one of the outcomes of the May 2017 Symposium was the founding of the Steering Committee to whom the responsibility to drive the initiative into new grounds and provide a road map for the future of MEPPI was entrusted: this, as we are sure you can imagine, is no easy task.
Since May, three official meetings were held among the members of the Steering Committee and numerous correspondences between the Steering Committee and the founding partners took place. The result was an ambitious plan, for the sustainable future of MEPPI, one that is grassroots, and that depends on your input, time, participation, good will and effort. As you know, the current grant will run out very soon, and we are depending on the volunteering work of the Steering Committee, as well as yours, until a new grant and new financial support can be found. We are lucky, and extremely grateful, to still be able to rely on the administrative support of AIF, and on the continuous commitment of the AIF and of the partners to this wonderful initiative.
Very briefly, the outcomes of the meetings so far can be summarized as follows:
Drafted the mission statement of MEPPI, which will be shared with you soon and posted on the MEPPI website.
Organized the functions of the Steering Committee, and divided up roles and workloads in terms of sub-committees responsible for various short-term goals.
Set up some short term goals, as well as an immediate short term action plan for immediate steps (details will be shared with you all very shortly, and will require your active participation and support).
Planned and prepared the upcoming workshop on digitization which will take place in June 2018, in Beirut.
Commented on and finalized the new webpage meppi.me: this page will serve as a connecting hub, and will feature resources of interest to the MEPPI community, including preservation resources of interest, as well as events news, and significant activities of the current and growing MEPPI community.
Established the MEPPI Newsletter which will launch its first issue in September 2018 (a call for submissions will be sent shortly in the coming months).
Planned and set the process to create some educational material and booklets on topics of relevance and interest to the community to serve as a teaching resource, and an educational reference in the field for various interested stakeholders.
Finally, we will continue to discuss and explore the long term goals of MEPPI, and with your help, we are confident that we will be able to sustain this great network in the future, with your help, dedication and enthusiasm.
This is a very quick and short summary of the work done in the past ten months: we are hopeful and confident that with the input, suggestions, feedback and support of all Alumni members and of our growing community, we will be able to continue to see MEPPI, together, as the focal point for preservation of our regional photographic heritage.
Keep well: take care of yourselves and of your photographs! 
The MEPPI Steering Committee and Partners